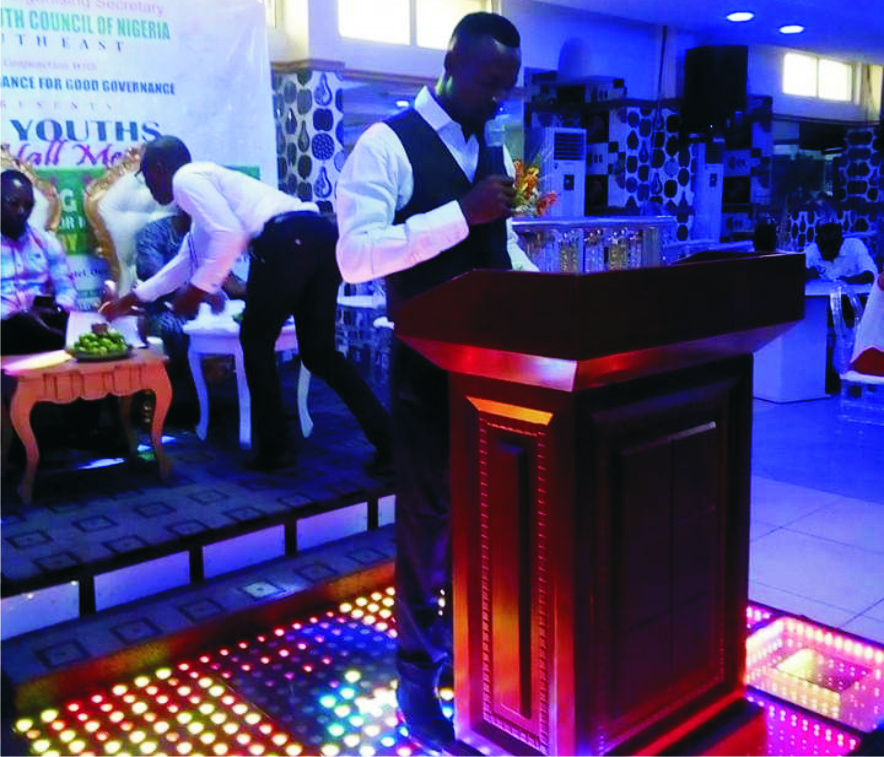 By Amaechi Kingsley 
Imo youths under the auspices of the National Youth Council of Nigeria (NYCN), has demanded for an inclusive government where they can contribute to the development of the state and for the leadership of NYCN Imo State chapter to be allowed full participation in the affairs of government.
This call was made by the Organizing Secretary, National Youth Council of Nigeria, NYCN, South East Zone, Comrade Agwuncha Izunna, during a Town Hall Meeting, held at the All Seasons Hotel, Owerri, last Monday.
Comr. Agwuncha while speaking to Imo youths who attended in their numbers to the Town Hall Meeting, tasked subsequent governments in Imo to give ample opportunity to youths in key political positions in order to brighten their future and bridge the gaps between youths and governance in the state.
He pointed out that the Leadership of Youths (NYCN) are not considered in the planning and governing of the state, noting that any "government that does not recognize National Youth Council and allot her a rightful position in their duty of governance has no regard for the leadership of Young People".
The outspoken National Youth leader, recalled that the National Youth Council of Nigeria is the Apex and Umbrella body of all the Youths in Imo state and Nigeria, maintaining that government should often reach the Youths through their Leadership.
Agwuncha who said the "essence of the Town Hall Meeting is for all youth leaders and organizations in Imo state to come together to review the state of Imo youths since 2011 till date as well as brainstorm and articulate the demands of youths for the next government as to solve the problems of exclusion of  youths  in government", harped, "let us leverage on the decisions reached during this Town Hall Meeting to speak in one voice to chart a course of repositioning youths for an inclusive and participatory democracy in the next dispensation".
While remarking that the theme of the program is "Brainstorming Together to Reposition Imo Youths for Inclusive Governance and Participatory Democracy", the youths regretted that "many political parties and governorship candidates have different manifestoes and promises to Imolites, but Imo has a battered image, devastated structure, abused instruments of governance and vandalized institution of governance with a total disregard for youths".
"This present government has not paid *annual subvention of NYCN since 2011*. And in the last 8years Imo youths have not joined their fellow youths all over the world to celebrate International Youth Day. We must take our destiny in our hands to chart a new course and chart a paradigm shift. With our strength and unity we can do wonders".
He said NYCN has no faction because they are working for common goal of youths and society, advising youths to continue to work hard and shun manipulation and sharp practices in violating due process as experienced in the current regime.
While urging youths not to depend on government to succeed, but work efficiently to liberate themselves from poverty and marginalization, the deputy National President of NYCN, Comr Innocent Nduanya, encouraged youths to engage in active politics to get things done rightly, positing that prayers, hardwork and diligence would help salvage the society.
The Town Hall Meeting which was organized by the Office of the Organizing Secretary, NYCN, saw participants drawn from across Imo state who appealed to government to always carry youths along, adding that providing jobs and social amenities to all communities will encourage productivity.
Comment on this article
comments